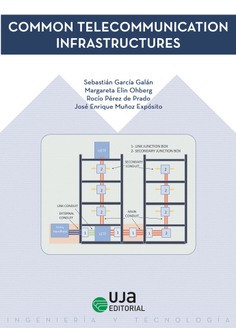 Common telecommunication infrastructures
The continuous advance in the development of information and communications technologies, spearheaded by the telecommunications sector, involves a substantial change in our society. Indeed, our society is affected by a continuous increase of new services, resulting in an improvement of the quality of life, as well as of life expectancy.
In this context, Common Telecommunication Infrastructures (CTI) play a fundamental role as they structure and guarantee access to these services from the homes. This book presents the Spanish regulations defining the characteristics that these infrastructures must comply with, as well as the structure and contents that the CTI technical projects must present.
This book is mainly aimed at students in the compulsory graduate course "Telecommunication Infrastructures" included in the Master in Telecommunication Engineering taught at the Universidad de Jaén, Linares School of Engineering.

____________________________________________


El avance constante en el desarrollo de las tecnologías de la información y la comunicación, liderado por el sector de las telecomunicaciones, representa un cambio sustancial en el modelo de nuestra sociedad, que se ve afectada por un aumento continuo de nuevos servicios, resultando en una mejora de la calidad de vida, así como de la esperanza de vida.
En este contexto, las Infraestructuras Comunes de Telecomunicación (ICT) desempeñan un papel fundamental ya que estructuran y garantizan el acceso a estos servicios desde los hogares. Este libro presenta la regulación españolas que define las características que deben cumplir estas infraestructuras, así como la estructura y el contenido que deben presentar los proyectos técnicos de ICT.
Este libro está dirigido principalmente a estudiantes de la asignatura obligatoria "Infraestructuras de Telecomunicaciones" incluida en el Máster en Ingeniería de Telecomunicación que se imparte en la Escuela Politécnica Superior de Linares, en la Universidad de Jaén.

Escritor

Escritor

Escritor

Escritor

Colección

Materia

Idioma

Editorial

UJA Editorial

EAN

9788491591023

ISBN

978-84-9159-102-3

Páginas

208

Ancho

17 cm

Alto

24 cm

Edición

1

Fecha publicación

02-04-2018

Número en la colección

46
Sobre Sebastián García Galán
Sobre Margareta Elin Ohberg
Contenidos
PREFACE
FOREWORD
1. GENERAL IDEAS
1.1. APPLICABLE TECHNICAL REGULATIONS
1.2. TECHNICAL PROJECT
1.3. ENQUIRY AND INFORMATION EXCHANGE BETWEEN THE PROJECT ENGINEER AND THE TELECOMMUNICATION OPERATORS
1.4. PROCEDURE FOR VERIFICATION OF A CTI TECHNICAL PROJECT
1.5. EXECUTION OF THE TECHNICAL PROJECT
1.6. USER MANUAL
1.7. REQUIREMENTS AND OBLIGATIONS TO BE FULFILLED BY THE PROJECT MANAGER IN A CTI.
2. MINIMUM TECHNICAL SPECIFICATIONS OF BUILDINGS IN THE FIELD OF TELECOMMUNICATIONS
2.1. PREVIOUS DEFINITIONS
2.2. CTI TOPOLOGY
2.3. DESIGN AND DIMENSION
2.4. MATERIALS
2.5. ELECTROMAGNETIC COMPATIBILITY
2.6. SAFETY REQUIREMENTS BETWEEN FACILITIES
3. CTI FOR THE COLLECTION, ADAPTATION AND DISTRIBUTION OF SOUND BROADCASTING AND TELEVISION SIGNALS FROM TERRESTRIAL AND SATELLITE BROADCASTS
3.1. ELEMENTS THAT CONSTITUTE THE CTI
3.2. MINIMUM DIMENSIONS OF A CTI
3.3. TECHNICAL CHARACTERISTICS OF THE CTI
3.4. TECHNICAL CHARACTERISTICS OF THE CABLES
4. CTI FOR ACCESS TO PUBLICLY AVAILABLE TELEPHONY SERVICES AND BROADBAND TELECOMMUNICATION SERVICES
4.1. DEFINITION OF BUILDING NETWORK
4.2. DESIGN AND MINIMUM NETWORK DIMENSION
4.3. PARTICULARITIES OF SINGLE-FAMILY DWELLING
4.4. MATERIALS
4.5. TECHNICAL REQUIREMENT
4.6. SAFETY REQUIREMENTS
4.7. ELECTROMAGNETIC COMPATIBILITY REQUIREMENTS
5. DIGITAL HOME
5.1. DEFINITION OF DIGITAL HOME
5.2. DIGITAL HOME FACILITIES
5.3. DIGITAL HOME SERVICES
5.4. EQUIPMENT AND DIGITAL HOME LEVELS
5.5. FUTURE OF THE DIGITAL HOME
6. CONTENT AND STRUCTURE OF COMMON TELECOMMUNICATION INFRASTRUCTURES TECHNICAL PROJECT
BIBLIOGRAPHY
ACRONYMS