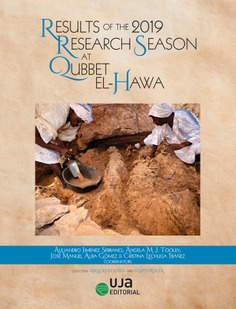 Results of the 2019 Research Season at Qubbet el-Hawa
The History of the necropolis of Qubbet el-Hawa, located in western Aswan (Egypt), is an extended one. The archaeological site was in use from c. 2500 BC to the Byzantine Period. It comprises many tombs, mostly of Old Kingdom to Middle Kingdom date, belonging to the highest and administrative elite of Elephantine, 1st Upper Egyptian Nome. This area played an important role in the ancient state, even though it was far away from the royal court, due to the exceptional nature of its border territory, its proximity to Lower Nubia, and the expeditions and the trade with other neighboring lands. The Qubbet el Hawa Project, led by the University of Jaén and with the collaboration of the MoTA, conducted its first field season in summer 2008. Since then, research works have been carried out by a multidisciplinary team. This volume presents and offers, to the wider scientific community, a larger range of papers concerning the preliminary results of the 2019 campaign (11thseason) and updates the fieldwork carried out during the past decade.
Coordinador/a

Coordinador/a

Coordinador/a

Coordinador/a

Colección

Idioma

Editorial

UJA Editorial

EAN

9788491594420

ISBN

978-84-9159-442-0

Páginas

216

Ancho

19 cm

Alto

25 cm

Edición

1

Fecha publicación

23-12-2021

Número en la colección

3
Contenidos
PREFACE.
1. PRELIMINARY REPORT OF EXCAVATION AND DOCUMENTATION OF A NEW PREVIOUSLY UNIDENTIFIED TOMB: QH23/2019.
Juan Luis Martínez de Dios; Raquel Rodríguez Sánchez
2. CONTINUATION OF THE ARCHAEOLOGICAL WORK AT TOMB QH32.
José Manuel Alba Gómez
3. WORK IN THE EXTERIOR OF TOMBS QH34AA AND QH34EE: THE NEW TOMBS QH34FF, QH34GG, QH34II, QH34JJ, QH34KK AND QH34LL.
Alejandro Jiménez Serrano; Vicente Barba Colmenero
4. THE TOMB QH34EE.
José Manuel Alba Gómez
5. QUBBET EL-HAWA REPORT 2019 SEASON: STUDY OF WOODEN FURNITURE.
Gersande Eschenbrenner Diemer
6. ANALYSIS OF PHYSICAL ANTHROPOLOGY.
Miguel C. Botella; Rosario Guimarey; Ángel Rubio
7. MACROSCOPIC AND RADIOLOGICAL STUDY OF DENTAL PATHOLOGIES IN A SKELETAL SAMPLE OF THE NECROPOLIS OF QUBBET EL-HAWA: A PRELIMINARY REPORT.
Gabriel M. Fonseca; Violeta C. Yendreka; Sandra López Lázaro
8. NOTES ON THE CERAMICS FOUND IN TOMB QH33: 2019 CAMPAIGN.
Desirée Pérez Navazo
9. THE INTERIOR OF TOMB QH35P: 2019 AND 2020 CAMPAIGN RESULTS.
Ana Díaz Blanco; Luisa María García González
10. PRELIMINARY SURVEY OF OFFERING TRAYS FOUND IN TOMB QH33.
Cristina Lechuga Ibáñez
11. ARCHAELOGICAL DOCUMENTATION: THREE DIMENSIONAL MODELING OF ARTIFACTS.
Libertad Serrano Lara
12. BRIEF REPORT ON THE EPIGRAPHIC WORK AT QUBBET EL-HAWA, ASWAN – SEASON 2019.
Antonio J. Morales
13. PRELIMINARY RESTORATION REPORT- SEASON 2019.
Teresa López-Obregón Silvestre; Sara Tapia-Ruano Juan
14. GEOMATIC WORKS DEVELOPED DURING THE 2019 CAMPAIGN OF THE QUBBET EL-HAWA PROJECT (ASWAN, EGYPT).
José Luis Pérez-García; Antonio Tomás Mozas-Calvache
15. CONSERVATION, IMPROVEMENTS AND SITE MANAGEMENT AT QUBBET EL-HAWA.
José Manuel Alba Gómez
16. THE FORTHCOMING EXHIBITION OF THE QUBBET EL-HAWA PROJECT.
Yolanda de la Torre Robles
LIST OF FIGURES.