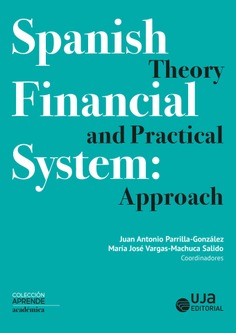 Cómo citar este libro
Parrilla González, J. A y Vargas-Machuca Salido, M. J. (Coords.) (2022).Spanish Financial System: Theory and Practical Approach. Universidad de Jaén, UJA Editorial. 
Spanish Financial System: Theory and Practical Approach
Este manual desarrolla un análisis del sistema financiero español a través del estudio de sus elementos fundamentales: instituciones, activos y mercados. El contenido teórico se completa con algunas actividades prácticas. Todo ello se presenta en inglés para facilitar el aprendizaje del alumnado que cursa esta materia en dicho idioma.
___________________________
This manual develops an analysis of the Spanish financial system through the study of its fundamental elements: institutions, assets and markets. The theoretical content is completed with some practical activities. All of this is presented in English to facilitate the learning of students who study this subject in English.
Coordinador/a

Coordinador/a

Colección

Materia

Idioma

Editorial

UJA Editorial

EAN

9788491594826

ISBN

978-84-9159-482-6

Páginas

178

Edición

1

Fecha publicación

27-12-2022

Número en la colección

9

DRM

DRM
Sobre Juan Antonio Parrilla González
Sobre María José Vargas-Machuca Salido
Contenidos
INTRODUCTION
INTRODUCCIÓN
THE FINANCIAL SYSTEM . GENERAL CHARACTERISTICS
Introduction: real activity and financial activity
The concept of a financial system and its functions. Assets, markets and financial intermediaries
Current structure of the Spanish financial system
THE BANK OF SPAIN, THE EUROPEAN CENTRAL BANK AND MONETARY POLICY
Institutional framework of the EMU
The Bank of Spain: historical background and current organization
The functions of the Bank of Spain
The European Central Bank (ECB), the European system of central banks (ESCB), and the Eurosystem.
The single monetary policy
THE BANKING SYSTEM (I): THE STRUCTURE OF THE SECTOR
The Spanish banking system
Mandatory rules and ratios for banking institutions
The restructuring of the sSpanish banking sector (2008-2021)
The banking system after the restructuring
Other banking organizations
Appendix 1
Appendix 2
THE BANKING SYSTEM (II): THE BANKING BUSINESS
Types of banking business
Borrowing (passive) operations
Lending (active) operations
Service operations
Appendix: loans and credits
OTHER INSTITUTIONS UNDER THE SUPERVISION OF THE BANK OF SPAIN AND THE DIRECTORATE-GENERAL FOR INSURANCE
The Official Credit Institute (ICO)
Specialized Lending Institutions (SLIs)
Electronic Money Institutions (EMIs)
Mutual Guarantee Companies (MGCs)
Insurance companies
Pension funds
Other financial intermediaries and auxiliaries
Appendix: Long-Term Savings Instruments in Spain
FINANCIAL INSTITUTIONS UNDER THE SUPERVISION OF THE CNMV
The National Securities Market Commission (CNMV)
Investment firms
Collective investment institutions
Venture Capital Companies and Funds
Other entities
FIXED-INCOME FINANCIAL ASSETS AND MARKETS
Fixed-income markets in Spain: definition, characteristics and classification
The Interbank Deposit Market
The AIAF Market: public and private fixed-income
EQUITY MARKETS AND SHARES
Equity securities: shares
The Stock Exchange
Stock Market Indexes
Investment in the stock exchange
Other stock market terms
Financial derivatives: futures and options
PRACTICAL ASSIGNMENTS
ASSIGNMENT 1
ASSIGNMENT 2
ASSIGNMENT 3
ASSIGNMENT 4
ASSIGNMENT 5
ASSIGNMENT 6